Ad blocker interference detected!
Wikia is a free-to-use site that makes money from advertising. We have a modified experience for viewers using ad blockers

Wikia is not accessible if you've made further modifications. Remove the custom ad blocker rule(s) and the page will load as expected.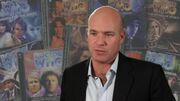 Jason Haigh-Ellery is the Managing Director of Big Finish Productions and co-producer of their Doctor Who audio stories. He has also directed and performed post production on a number of Doctor Who audio dramas.
Before Big Finish, he was an associate producer and stuntsman on the Reeltime Pictures drama Shakedown: Return of the Sontarans, and a producer on the BBCi webcasts Shada and Real Time.
As producer
Edit
Reeltime Pictures
Edit
BBCi webcasts
Edit
As director
Edit
Big Finish Doctor Who audio stories Edit
The Eighth Doctor Adventures Edit
Doctor Who Unbound Edit
The Stageplays Edit
The Companion Chronicles Edit
Post production
Edit
As actor
Edit
Big Finish Doctor Who audio stories Edit
External links
Edit