Jelly baby
Talk

10
40,061
articles in progress
Scrub away the lists, ladies.
This article contains far too many bulleted lists. These sections should be converted into normal prose.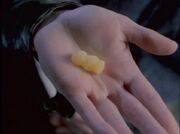 Jelly babies were an English sweet favoured by the Doctor, his fourth incarnation in particular. They were also enjoyed by the Master. The Fourth Doctor often offered them to companions and others he met on his travels. Jelly babies were in the shape of a miniature humanoid child. They were made out of gelatin and were offered in a variety of colours and flavours.
Appearances and mentions
Edit
Second Doctor
Edit
Third Doctor
Edit
Fourth Doctor
Edit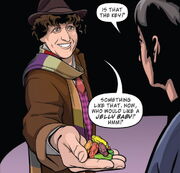 Fifth Doctor
Edit
Sixth Doctor
Edit
Seventh Doctor
Edit
Eighth Doctor
Edit
Tenth Doctor
Edit
The Doctor gave Donna Noble a bag to breathe into when she began hyperventilating; she commented that it smelled of jelly babies. (AUDIO: The Forever Trap)
When shopping for some Brainy Crisps to conduct an investigation, the Doctor was able to ignore a lot of the sweets but gave the jelly babies a longing glance, hinting his taste for jelly babies lingered through regeneration. (PROSE: Code of the Krillitanes)
Eleventh Doctor
Edit
Behind the scenes
Edit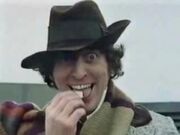 Footnotes
Edit