This page needs to be updated.
Is there anywhere she's actually credited in the DWU as just Jenny Colgan? Time Reaver, In the Blood and Gardens of the Dead, all from 2016, also use the T.
These omissions are so great that the article's factual accuracy has been compromised. Check out the discussion page and revision history for further clues about what needs to be updated in this article.
This topic might have a better name.
Talk about it here.

Jenny Colgan
In the DWU
Main jobs:
Writer
Stories:
see credits section
Main time period active:
2012, 2014-
Career highlights
Notable non-DWU work:
Little Beach Street Bakery (series), The Little School by the Sea (series), Working Wonders, Polly and the Puffin (series), Resistance is Futile
Twitter page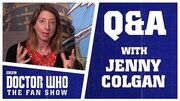 Jenny Colgan wrote the Eleventh Doctor novel, Dark Horizons, under the name J.T. Colgan and her short story, The Triple Knife, as well as her audio story The Boundless Sea, as Jenny T. Colgan. She otherwise wrote under her full name and was credited as Jenny Colgan for her later DWU works.
She once claimed that her entirely fictitious middle initial stood for "Tardis".[1]
As of 2013Scottish themes or locales, and Dark Horizons was no exception. Her novel-writing career started in earnest at the dawn of the 21st century, when she began releasing, on average, a little over a book a year.
, a reasonable amount of her work contained
Though typically a writer of romantic comedies for young adults, she was thrilled to be asked to write a Doctor Who novel, as she was a lifelong fan. Her association with Doctor Who began as a child watching Tom Baker and voraciously reading Target novelisations, but her fandom waned during the Colin Baker and Sylvester McCoy tenures — only to be rekindled by the Russell T Davies and Steven Moffat eras.[1]
She also contributed to the charity reference book Behind the Sofa: Celebrity Memories of Doctor Who.
Bibliography
Edit
Short stories
Edit
Time Trips
Edit
The Scientific Secrets of Doctor Who Edit
The Legends of River Song Edit
The Legends of Ashildr Edit
Charity publications
Edit
Sonnet (in Seasons of War)
Audio stories
Edit
The Diary of River Song
Edit
Short Trips
Edit
Tenth Doctor Adventures
Edit
Big Finish Torchwood
Edit
Footnotes
Edit
External links
Edit
Ad blocker interference detected!
Wikia is a free-to-use site that makes money from advertising. We have a modified experience for viewers using ad blockers

Wikia is not accessible if you've made further modifications. Remove the custom ad blocker rule(s) and the page will load as expected.