Ad blocker interference detected!
Wikia is a free-to-use site that makes money from advertising. We have a modified experience for viewers using ad blockers

Wikia is not accessible if you've made further modifications. Remove the custom ad blocker rule(s) and the page will load as expected.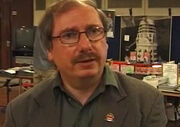 Jeremy Bentham — co-founder of the Doctor Who Appreciation Society in 1976 — was one of Doctor Who Weekly's two original writers. From roughly the end of the Weekly era until 1982, he was the only writer of the publication. (MM VHS 18)
Although his formal title was "associate editor", editors Dez Skinn and Paul Neary gave him a largely free hand to decide what textual content the magazine would have each week — since he would also have to write it. This gave him a kind of influence over the direction of the magazine that was not true of most people who subsequently held the title of "associate editor". (MM VHS 47) However, this also meant that the magazine was entirely dependent on Bentham's ability to write each issue. He left in 1982, some two-and-a-half years after Weekly had morphed into Monthly. (MM VHS 18)
Later, he wrote the reference book Doctor Who: The Early Years and contributed to Doctor Who: A Celebration by Peter Haining.
He also appeared in the Reeltime Pictures production, The Corridor Sketch, credited as J. Jeremy Bentham.
As co-founder of the Doctor Who Appreciation Society, he helped to expand it from a purely college-based club to a national society, supported by Philip Hinchcliffe. He ran the society's Reference Department until 1980, producing STINFOs (STory INFOrmation documents) and story synopses, as well as answering members' queries. In 1978, he started writing for Marvel Comics' Starburst magazine and supporting Terrance Dicks with some of his factual books.
In 1980, Bentham founded Cyber-Mark Services (CMS) in order to carry on bringing out fan-researched publications about the show's history, which it did story by story. The first title was the reference partwork Doctor Who – An Adventure in Space & Time (aka Space & Time) which ran until 1985. This became In Vision with Robot, finishing with the Paul McGann movie and Legacy editions in 2003.
In 1983, he worked with the BFI in staging the two-day Doctor Who – The Developing Art weekend at the National Film Theatre, where the many guests included Patrick Troughton, Heather Hartnell, John Nathan-Turner, Anthony Ainley and Douglas Camfield.
Since the show returned in 2005, Bentham has staged a number of hugely popular free-to-attend launch parties in London, which at various times have attracted the likes of Nicholas Courtney, Philip Madoc, Steven Moffat, Robert Shearman and Paul Cornell as guests mingling informally with the party-goers. Some 1,200 people went to the 2010 event.