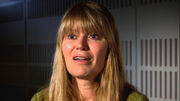 Jessica Carney is the lone granddaughter of William Hartnell. Born Judith Carney, she changed her name to Jessica in order to obtain her Equity card, and kept the name professionally thereafter. (DOC: Who Made Who?)
She is author of his sole published biography, Who's There? The Life and Career of William Hartnell. She also starred in a short 2010 documentary about Hartnell, My Grandfather, the Doctor. Carney has been interviewed several times about her grandfather, and spoke about him in Thirty Years in the TARDIS, a documentary celebrating Doctor Who's 30th anniversary in 1993.
A fictionalised version of Jessica was played by Cara Jenkins in An Adventure in Space and Time, a 2013 docu-drama detailing her grandfather's time on the programme. The drama showed the close relationship between Judy and Hartnell, whom she was proud of. "My grandfather is Doctor Who, and he can do anything," she is shown saying. The real-world Carney was also interviewed in William Hartnell: The Original, a short commemorative documentary broadcast with AAISAT.
Carney now works as a talent agent, having followed her father Terry Carney into the business.[1] Carney's agency represents Claudia Grant, who played Carole Ann Ford in An Adventure in Space and Time.[2]
External links
Edit
Ad blocker interference detected!
Wikia is a free-to-use site that makes money from advertising. We have a modified experience for viewers using ad blockers

Wikia is not accessible if you've made further modifications. Remove the custom ad blocker rule(s) and the page will load as expected.