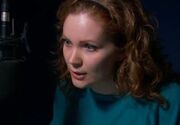 Jo Sykes is an audio describer who voices a special audio track that is available during the broadcast (and sometimes the DVD releases) of many television programmes. In this capacity, she works for Red Bee Media, a company contracted by the British Broadcasting Corporation, and not specifically the Doctor Who production team.
The tracks her colleagues and she provide is of special use to the visually impaired. It offers a more visual description of events than the standard audio track. During initial broadcast of Doctor Who episodes in the United Kingdom, this track can usually be accessed via the Red Button.
She was interviewed on the Doctor Who Confidential episode After Effects and explained the service she provides for visually impaired Doctor Who fans.
External links
Edit
Ad blocker interference detected!
Wikia is a free-to-use site that makes money from advertising. We have a modified experience for viewers using ad blockers

Wikia is not accessible if you've made further modifications. Remove the custom ad blocker rule(s) and the page will load as expected.