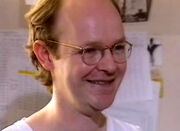 John Freeman was editor of Doctor Who Magazine from 1990 to 1992, following Sheila Cranna and preceding Gary Russell. During this time, he negotiated purchase of publishing rights from London and North Surrey Newspapers (now owned by Trinity Mirror) to all the Doctor Who comic strips published in TV Comic, Countdown and TV Action. In 1992, when Marvel UK launched Doctor Who Classic Comics, he became the senior editor for this magazine.
In addition to editing the Doctor Who magazines and the comics, John Freeman wrote a number of comic stories as well.
Bibliography
Edit
Doctor Who Magazine Edit
The Incredible Hulk Presents Edit
Doctor Who Yearbook
Edit
External links
Edit
Ad blocker interference detected!
Wikia is a free-to-use site that makes money from advertising. We have a modified experience for viewers using ad blockers

Wikia is not accessible if you've made further modifications. Remove the custom ad blocker rule(s) and the page will load as expected.