John Jones was a humanoid chameleon who worked as a pop musician in London during the 1960s, and a companion of the Eleventh Doctor.
The Eleventh Doctor studied Jones using his sonic screwdriver. He found out that his electro-magnetic readings were constantly shifting. The Doctor called him an aberration and explained that his cells reacted to the light constantly changing, that his talent was that he was a chameleon. (COMIC: What He Wants...)
Biography
Edit
Jones followed Alice Obiefune and the Eleventh Doctor out of Dog & Duck club after his first concert in 1962 to confront them about their negative thoughts on his music. He sneaked into the TARDIS unnoticed and was transported to the Mississippi Delta in 1931. There he helped Alice and Robert Johnson, a legendary blues singer save the Doctor from the Talent Scout by sneaking unnoticed past a mob of people possessed by the Talent Scout.
After their successful rescue, Robert Johnson gave Jones guitar lessons. (COMIC: What He Wants...)
Following his death, the Doctor and Alice attended Jones' funeral. (COMIC: Remembrance)
Plex owned a collection of bootleg John Jones vinyls. (COMIC: The Promise)
Appearance
Edit
As a chameleon, Jones' true appearance was impossible to say, as he routinely revamped himself. He once said to Alice, "The look I got from that last planet was ace. Takes time to glam meself up like that. I'm an artist." (COMIC: Space in Dimension Relative and Time)
When he first met the Doctor and Alice, he had a relatively young adult with brown hair and grey eyes. (COMIC: What He Wants...)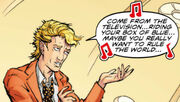 Behind the scenes
Edit
The character of Jones was inspired by real-life musician David Bowie. Bowie's birth name was David Jones. The title of his album Abanazar's Madness is an antonymisation of Bowie's Aladdin Sane, and the covers of the albums both feature the respective artist with red hair, closed eyes and paint on the face. Similarly, the aliases as the chameleon of pop, the Tall Pale Earl and Xavi Moonburst are similar to Bowie's aliases and characters as the chameleon of rock, the Thin White Duke and Ziggy Stardust, respectively.
External links
Edit
Companions of the Eleventh Doctor

Original to television

Multi-story
Single-adventure
Multi-adventure

Original to prose
Original to comics

Original to audio
Multi-adventures reference the rare instance when a companion is shown or stated to have multiple adventures with the Doctor but only appears in a single story.
If a medium is not mentioned, then this incarnation did not have companions who were original to that medium; it does not mean that this Doctor failed to appear in that medium.
Ad blocker interference detected!
Wikia is a free-to-use site that makes money from advertising. We have a modified experience for viewers using ad blockers

Wikia is not accessible if you've made further modifications. Remove the custom ad blocker rule(s) and the page will load as expected.