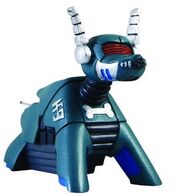 The K9 official collector's figurine was a K9 Mark 2 figure from the K9 TV series. It was released in 2012.
The K9 official collector's figurine was a figure of the K9 Mark 2 model, which only appeared in the K9 TV series.[1] A limited 500 figures were sold with a random autographed card by either John Leeson, Bob Baker, Paul Tams or all three.[2][3]
Next to the official DVDs the K9 figure was the only released merchandise for the K9 TV series. In 2011 there had been a plan to release a book called The K9 Storybook which would include short stories, behind the scenes features, comic strips and Monster features about the series, but as of early 2015 the book was still not published.[4][5] Besides that there is one book which is connected to the K9 series, but also includes a lot of information from Doctor Who, The Essential Book of K9. [6]
Footnotes
Edit
Ad blocker interference detected!
Wikia is a free-to-use site that makes money from advertising. We have a modified experience for viewers using ad blockers

Wikia is not accessible if you've made further modifications. Remove the custom ad blocker rule(s) and the page will load as expected.