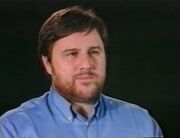 Kevin Davies was the director of Dalekmania and the 1994 Reeltime Pictures video drama Shakedown: Return of the Sontarans. Shakedown was Davies' first drama direction.
He was also the script editor and director of The Corridor Sketch.
Additionally he wrote, directed and produced the 1993 UNIT Recruitment Film as well as Police 5: The Master.
External links
Edit