Kingdom of Lies was the two hundred and thirty-fourth story in Big Finish's monthly range. It was written by Robert Khan and Tom Salinsky and featured Peter Davison as the Fifth Doctor, Matthew Waterhouse as Adric, Sarah Sutton as Nyssa and Janet Fielding as Tegan Jovanka.
Publisher's summary
Edit
On the planet Cicero Prime, the kingdom of Cardenas is divided, with the whole population forced to swear allegiance to either the effete Duke or the fiery, hard-edged Duchess. This is a situation both parties have grown tired of. What use is half a kingdom when, thanks to a carefully engineered murder, you could have it all?
Surely, neither of them would be rash enough to summon the deadly off-world assassin The Scorpion to help with their problem? And surely, this terrifying figure wouldn't arrive wearing a long cream coat and striped trousers…?
Part one
Edit
to be added
Part two
Edit
to be added
Part three
Edit
to be added
Part four
Edit
to be added
References
Edit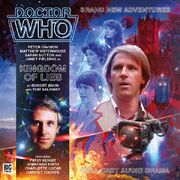 Continuity
Edit
External links
Edit
Big Finish monthly releases
Fifth Doctor
Adric, Nyssa, Tegan
Nyssa
Nyssa, Brewster
Nyssa, Hannah
Tegan, Nyssa
Tegan, Turlough, Nyssa
Tegan, Leela
Turlough
Peri
Peri, Erimem
Amy
Solo travels
All stories in the main monthly range are included in this navigation box including the "subscriber exclusive" stories which are part of Big Finish Productions' subscription service for this range. All other stories are represented in other navigation boxes.