Knock Knock was the fourth episode of the tenth series of Doctor Who produced by BBC Wales. This was the first Doctor Who story to be made available with a binaural 360 soundscape, released on iPlayer.
The episode expands the Doctor and Bill's relationship briefly when he tells her about the Time Lords, the alien race he belongs to and quickly mentions regeneration to her, but doesn't explain what regeneration actually is to her.
Synopsis
Edit
Bill and her friends rent an old house to live in, but the floorboards and the walls are creaking, and there's a creepy Landlord lurking around. Can the Twelfth Doctor save the day as creatures come crawling out of the wood?
Bill and her friends are at an estate agent looking for a home. After failing to find one, they are confronted by The Landlord who offers them a large house to live in. They sign the contract given by the Landlord to rent the house. Pavel goes up to his room and starts to play some classical music. The Dryads come out of the walls and devour him as the audio begins to skip.
Bill is in the TARDIS with the Twelfth Doctor, who wants to see Bill's house. He helps her move her stuff into the house, but then is asked to leave by Bill saying that she'll go on more TARDIS adventures later but for now she wants to settle.
to be added
General production staff


Script department

Camera and lighting department

Art department


Costume department

Make-up and prosthetics

Movement

Casting

General post-production staff

Special and visual effects

Sound
Not every person who worked on this adventure was credited. The absence of a credit for a position doesn't necessarily mean the job wasn't required. The information above is based solely on observations of the actual end credits of the episodes as broadcast, and does not relay information from IMDB or other sources.
References
Edit
Locations
Edit
Businesses
Edit
Technology
Edit
Foods and beverages
Edit
Organisations
Edit
Bill and her friends go to Redcliffe Lettings to find a new house to live in.
Redcliffe Lettings' phone number is 01174 960313.
The Doctor
Edit
The Doctor offhandedly mentions regeneration to Bill; he avoids elaborating on it.
Story notes
Edit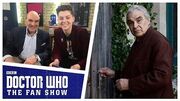 to be added
Filming locations
Edit
Production errors
Edit
to be added
Continuity
Edit
Home video releases
Edit
DVD releases
Edit
to be added
Blu-ray releases
Edit
to be added
Digital releases
Edit
to be added
External links
Edit
to be added
Doctor Who
television stories
Series 2-4: David Tennant
Series 2: 2005-2006

Series 3: 2006-2007

Series 4: 2007-2010

Mini-episode
Christmas special
Regular episodes
Mini-episode
Animated special
Seasonal specials
For the purposes of this list, "Series 4" is considered to be the production series 4, which ran all the way from Time Crash to The End of Time.

The years seen in this section may seem decidedly "off". Remember, however, that this list only gives the first year in which an episode from a series was broadcast. David Tennant, unusual amongst other Doctors, began and ended on special episodes, not regular ones. Thus, his series actually begin in 2005, 2006 and 2007 — not 2006, 2007 and 2008 as is commonly thought.
Ad blocker interference detected!
Wikia is a free-to-use site that makes money from advertising. We have a modified experience for viewers using ad blockers

Wikia is not accessible if you've made further modifications. Remove the custom ad blocker rule(s) and the page will load as expected.