Ad blocker interference detected!
Wikia is a free-to-use site that makes money from advertising. We have a modified experience for viewers using ad blockers

Wikia is not accessible if you've made further modifications. Remove the custom ad blocker rule(s) and the page will load as expected.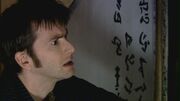 The Krop Tor script was an ancient writing system for an unknown language. It probably originated on the planet Krop Tor. The language was so old that not even the Doctor's TARDIS was able to translate it.
The script was found on old pieces of pottery and a notebook, found on Krop Tor by the Galis Expedition. (WC: Tardisode 8, TV: The Impossible Planet) The script was also found on Toby Zed's skin when he was being possessed. (TV:The Impossible Planet, The Satan Pit)