Last of the Gaderene (novel)
46,946
articles in progress
Talk

0

Last of the Gaderene was the twenty-eighth Past Doctor Adventures novel. it featured the Third Doctor and Jo Grant. It also featured the UNIT team of Brigadier Lethbridge-Stewart, Mike Yates and John Benton. This was author Mark Gatiss' final novel based contribution to Doctor Who.
Publisher's summary
Edit
2000 BBC Books edition
Edit
"My name is Bliss," said the newcomer, "and I bring great news for you all!"
The new owners of a Second World War aerodrome promise a golden dawn of prosperity for the East Anglian village of Culverton. The population rejoices — with one or two exceptions. Former Spitfire pilot Alec Whistler knows the aerodrome of old, having found a strange, jade-coloured crystal there years before...
When black-shirted troops appear on the streets, Whistler takes his suspicions to his old friend Brigadier Lethbridge-Stewart. The Doctor and Jo are sent to investigate and soon discover that all is not well in the seemingly idyllic village.
What are the black coffin-like objects being unloaded at the aerodrome? What horror lies behind Legion International's impeccable facade? And what is the monstrous creature growing and mutating in the marsh?
As Culverton gears up for its summer fete, the Doctor finds himself involved in a race against time to prevent a massive colonisation of Earth. For the last of the Gaderene are on their way...
2013 BBC Books edition
Edit
The aerodrome in Culverton has new owners, and they promise an era of prosperity for the idyllic village. But former Spitfire pilot Alex Whistler is suspicious – when black-shirted troops appear on the streets, he contacts his 
old friend Brigadier Lethbridge-Stewart at UNIT. The Third Doctor is sent to investigate – and soon uncovers a sinister plot to colonise the Earth. The Gaderene are on their way...
Chapter titles
Edit
Summer Lightning
AWOL
The Visitors
Cargo
Escape to Danger
Gogon of Xanthos
Legion International
The New Order
The Control Room
'For God's Sake Get Away From Here!'
The Beast
Friends in High Places
Missing
Night Takes Bishop
The Wind Tunnel
Jo Alone
Sleeping With the Enemy
Returns
Sleepers
Out of the Shadows
Display of Power
Guest of Honor
Fête Worse Than Death
The Marsh
Lair of the Worm
Resurrection
The Ninth Key
Improvisation
Attack!
Siege
Scramble
Desperate Measures
Invasion
Last of the Gaderene
Peace-time
to be added
Characters
Edit
References
Edit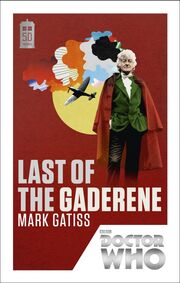 The novel was reprinted with a brand new cover on 7 March 2013 to celebrate the Doctor Who 50th anniversary.
Continuity
Edit
 Audiobook
Edit
This novel was released complete and unabridged by BBC Audio and read by Richard Franklin.
The audio set of eight CDs was released 21 May 2015 priced £25 (UK)
External links
Edit