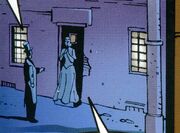 Latham Lane was a street in London. Penny Chapman lived in a flat at number 29 Latham Lane. The Eighth Doctor accompanied her there one night. Following him, Spring-heeled Jack also arrived on the Lane and attacked the Doctor with a psychic conduit. Penny separated them by firing at Jack until he fled. (COMIC: The Curious Tale of Spring-Heeled Jack)
Ad blocker interference detected!
Wikia is a free-to-use site that makes money from advertising. We have a modified experience for viewers using ad blockers

Wikia is not accessible if you've made further modifications. Remove the custom ad blocker rule(s) and the page will load as expected.