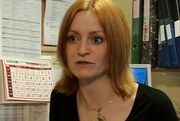 Lindsey Alford was a script editor on several episodes of Doctor Who from series 3 to series 5 and was also the script editor for the video games City of the Daleks and Blood of the Cybermen. She then served as script executive for series 6 and series 9.
Alford wrote the comic story In-Flight Entertainment, an instalment of the online BBC Writers' Comics series.
She has also served as script editor for the Torchwood television story Adrift and several episodes of The Sarah Jane Adventures.
She was the script executive for series 1 of Class.
Script editor
Edit
Script executive
Edit
External links
Edit
Ad blocker interference detected!
Wikia is a free-to-use site that makes money from advertising. We have a modified experience for viewers using ad blockers

Wikia is not accessible if you've made further modifications. Remove the custom ad blocker rule(s) and the page will load as expected.