Ad blocker interference detected!
Wikia is a free-to-use site that makes money from advertising. We have a modified experience for viewers using ad blockers

Wikia is not accessible if you've made further modifications. Remove the custom ad blocker rule(s) and the page will load as expected.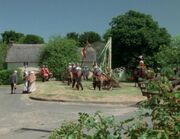 Little Hodcombe was a village in England, located near Hexford. (AUDIO: And You Will Obey Me)
On 13 July 1643, it was the site of one of the bloodiest battles of the English Civil War. Roundheads and Royalists annihilated each other and the village. Unknown to anyone, the Malus was feeding on the psychic energy generated by the battle. During the battle, Will Chandler was transported to 1984, but was returned home by the Fifth Doctor.
In 1984, the Doctor took Tegan Jovanka to Little Hodcombe to see her grandfather, Andrew Verney. They arrived during the annual reenactment of the battle, which was becoming increasingly and dangerously more realistic due to the reawakened Malus. The Doctor investigated the strange goings-on and defeated the Malus. (TV: The Awakening)
The churchyard of Little Hodcombe had red sorrel growing in it. (PROSE: The Awakening)
Jane Hampden was Mikey's teacher during third year at Little Hodcombe Primary School. (AUDIO: And You Will Obey Me)