Loups-Garoux (audio story)
Talk

0
32,647
articles in progress
Loups-Garoux

Added by

Tangerineduel

Script release:
The Audio Scripts
Doctor:
Fifth Doctor
Companion(s):
Turlough
Main enemy:
Pieter Stubbe
Main setting:
Cologne, Germany, 1589
Russia, 1812
Rio de Janeiro, Brazil, 2080
Key crew
Publisher:
Big Finish Productions
Writer:
Marc Platt
Director:
Nicholas Pegg
Music:
Alistair Lock
Cover by:
James Arnott
Release details
Release number:
20
Release date:
May 2001
Format:
4 Episodes on 2 CDs
Production code:
6P/B
ISBN 1-903654-29-7
Navigation
←Previous
Next→
Big Finish Doctor Who audio stories
Minuet in Hell
Dust Breeding
Official trailer

Added by

CzechOut

The second audio story to feature the pairing of the Fifth Doctor and Turlough, Loups-Garoux was released by Big Finish in 2001. It is one of only three audios to feature only the Doctor and Turlough together. Later audios, beginning with AUDIO: Cobwebs in 2010, have featured Nyssa, Tegan and Turlough.
Publisher's summary
Edit
Germany, 1589: the townspeople of Cologne, Germany pronounce a sentence of death on a mass-murderer who has stalked the countryside in the guise of a ferocious wolf.
Russia, 1812: retreating from Napoléon's invading forces, a merchant's daughter is rescued from bandits by a handsome partisan with a ravenous appetite.
Brazil, 2080: The Doctor and Turlough arrive for the Rio de Janeiro carnival.
Is wealthy heiress Ileana de Santos all that she seems? What sinister ailment afflicts her invalid son, tended by the mysterious Doctor Hayashi? And who exactly is Rosa, engaged on a secret quest to fulfil the destiny of her extinct tribe?
Time is running out for Rosa, Ileana and the Doctor, as the fearsome shadow of an ancient werewolf moves ever closer...
to be added
References
Edit
The Doctor quotes Samuel Taylor Coleridge's poem "The Rime of the Ancient Mariner".
The Doctor refers to "Alice's white rabbit", from Lewis Carroll's Alice in Wonderland.
The Doctor paraphrases William Shakespeare's play Julius Caesar when he says that "Stubbe is an honourable wolf".
References are made to Little Red Riding Hood, except in the end, where it's Red (Rosa) who tells the wolf to stay on the path.
The first scene quotes the real death sentence on Pieter Stubbe from the documented report of his trial in Cologne in 1589.
Individuals
Edit
When first meeting Stubbe, Turlough believes that he is wearing a werewolf mask and claims that he has seen better ones in "third rate horror films."
The Doctor describes Cleopatra as having "the succour and grace of a carpet flea."
Locations
Edit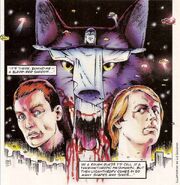 Continuity
Edit
External links
Edit
Big Finish monthly releases
All stories of the main monthly range are included in this navigation box including the "subscriber only" stories which are part of Big Finish Productions' subscription for this range. All other stories are represented in other navigation boxes.