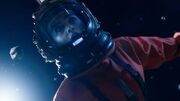 A Love Sprite was a creature from the Spider Mines. The creature earned its name from its ability to suck its victim's brain out through their mouth. After Clara Oswald paid a visit to the Mines, a Love Sprite snuck its way inside her spacesuit and attempted to feed on her; this attempt was thwarted by the Twelfth Doctor, who materialised his TARDIS around Clara and crushed the Sprite to death. (TV: The Girl Who Died)
Ad blocker interference detected!
Wikia is a free-to-use site that makes money from advertising. We have a modified experience for viewers using ad blockers

Wikia is not accessible if you've made further modifications. Remove the custom ad blocker rule(s) and the page will load as expected.