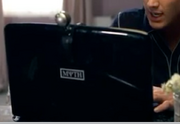 MΨTH was an electronics equipment manufacturer on Earth.
The laptop used by Jeff Angelo to assist the Eleventh Doctor to send a computer virus around the world was made by the company.
Various monitoring devices in the Royal Leadworth Hospital were also a product of the brand. (TV: The Eleventh Hour)
Ad blocker interference detected!
Wikia is a free-to-use site that makes money from advertising. We have a modified experience for viewers using ad blockers

Wikia is not accessible if you've made further modifications. Remove the custom ad blocker rule(s) and the page will load as expected.