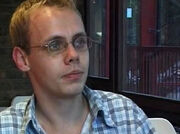 Myth Makers 47: Doctor Who Magazine was a Reeltime Pictures direct-to-video documentary commemorating the 20th anniversary of Doctor Who Magazine. Among those interviewed were Gary Gillatt, Dez Skinn, Jeremy Bentham, Andrew Pixley, Gary Russell and Sophie Aldred.
to be added
Ad blocker interference detected!
Wikia is a free-to-use site that makes money from advertising. We have a modified experience for viewers using ad blockers

Wikia is not accessible if you've made further modifications. Remove the custom ad blocker rule(s) and the page will load as expected.