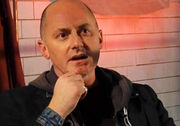 Mark Everest directed Adrift. Exclusively a documentary director prior to his work on Torchwood, he is notable for being the only BBC Wales director, as of 2010, whose first job in fictional television was on a "Whoniverse" show.
Everest's directorial career appears to have begun at the dawn of the 21st century. Until 2008, he had only directed documentaries and docu-dramas. He contributed to some of the most famous non-fictional series on English-language television, like Nova, before crossing over to fictional television with Torchwood. He followed Adrift with three episodes of Law & Order UK — where he worked with Doctor Who actors Freema Agyeman and Bill Paterson — and two episodes of Primeval.
External links
Edit
Ad blocker interference detected!
Wikia is a free-to-use site that makes money from advertising. We have a modified experience for viewers using ad blockers

Wikia is not accessible if you've made further modifications. Remove the custom ad blocker rule(s) and the page will load as expected.