Mary II became the Queen of England and Scotland when she and her husband William of Orange overthrew her father King James II in the Glorious Revolution in November 1688. She and William reigned together as "William and Mary". (AUDIO: The Glorious Revolution, Phantasmagoria)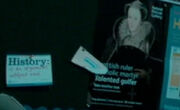 According to a National Portrait Gallery poster in a Coal Hill Academy history classroom, Mary was not only a Scottish ruler, but a Catholic martyr and a talented golfer. (TV: The Coach with the Dragon Tattoo) In contrast to her Catholic father, she and her husband were Protestants.
After the birth of her younger brother James Stuart in 1688, there was a rumour that he had been smuggled into his mother's bedchamber in a warming pan. William and Mary encouraged this rumour as, if it were true, it would mean that Mary was the first in line to the English and Scottish thrones. (AUDIO: The Glorious Revolution)
Behind the scenes
Edit
She was portrayed by Lisa Daniely in The First Churchills, Sarah Crowden in Orlando and Rebecca Front in England, My England.
Ad blocker interference detected!
Wikia is a free-to-use site that makes money from advertising. We have a modified experience for viewers using ad blockers

Wikia is not accessible if you've made further modifications. Remove the custom ad blocker rule(s) and the page will load as expected.