Ad blocker interference detected!
Wikia is a free-to-use site that makes money from advertising. We have a modified experience for viewers using ad blockers

Wikia is not accessible if you've made further modifications. Remove the custom ad blocker rule(s) and the page will load as expected.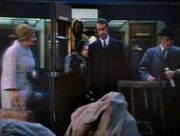 Marylebone station was a London railway station and a part of the London Underground. After unknowingly being infected with the Silurian virus, Masters began the spread of the disease to others at the station after he travelled there. (TV: Doctor Who and the Silurians)
Behind the scenes
Edit
The crew also made cameos at Marylebone station, notably, Terrance Dicks, Barry Letts and, most prominently, Trevor Ray, who plays a ticket collector.