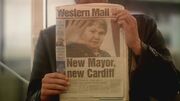 A mayor was a government official in charge of a city.
Josephine Laws was the mayor of the Mnemosyne Cincture during the 21st century. (PROSE: The Wheel of Ice)
Emily Sawyer was the daughter of the mayor of Cirbury. (PROSE: Rags)
Bill Thompson was the mayor of Chicago in 1929. The Seventh Doctor bribed him and police captain Dennis Reilly to leave Doc's Place alone. (PROSE: Blood Harvest)
Blon Fel-Fotch Passameer-Day Slitheen, in the guise of Margaret Blaine, became mayor of Cardiff by 2006. (TV: Boom Town)
Boris Johnson was the mayor of London during Monos' graffiti attacks on London landmarks in 2012. (COMIC: Sticks & Stones)
Me was the mayor of the London trap street in the 21st century. (TV: Face the Raven)
Ad blocker interference detected!
Wikia is a free-to-use site that makes money from advertising. We have a modified experience for viewers using ad blockers

Wikia is not accessible if you've made further modifications. Remove the custom ad blocker rule(s) and the page will load as expected.