Ad blocker interference detected!
Wikia is a free-to-use site that makes money from advertising. We have a modified experience for viewers using ad blockers

Wikia is not accessible if you've made further modifications. Remove the custom ad blocker rule(s) and the page will load as expected.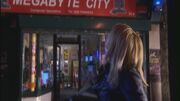 Megabyte City was a shop that branded itself as "computer specialists". Its telephone number was 020 79460654. The store was next door to Spencer Emporium. In 2009, they had a 50% off sale.
Rose Tyler scared away two looters from the shop, then watched the Daleks' arrival on Earth on a computer there. (TV: The Stolen Earth)