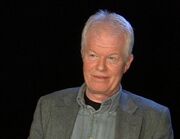 Michael Cochrane appeared in two Doctor Who stories: as Charles Cranleigh in Black Orchid and Redvers Fenn-Cooper in Ghost Light.
He also voiced several Big Finish Productions audio story characters: Lieutenant-Colonel Brook in No Man's Land, Murgat in Brotherhood of the Daleks, Colonel Hugh Spindleton in Trail of the White Worm / The Oseidon Adventure and Geralk in The Fate of Krelos and Return To Telos.
He is the brother-in-law of Kate O'Mara and is the younger brother of Martin Cochrane.
External links
Edit