Michael Hayes
Uncredited people need proof.
You must properly source their involvement in the DWU. Otherwise, the claim — or whole page — must be deleted. Remove this message only when proof has been given.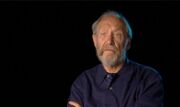 Michael Hayes (3 April 1929-16 September 2014)[1] directed the Doctor Who serials The Androids of Tara, The Armageddon Factor and City of Death.
Hayes was initially reluctant to direct Doctor Who, which he thought of as "a children's show with dodgy effects". However, due to his friendship with head of serials Graeme MacDonald and producer Graham Williams, he agreed to do one, hoping it would never actually happen. He came to like the show, agreeing to do two more.
He was glad to find that his first Doctor Who story, The Androids of Tara was mostly shot on location instead of on a soundstage made up to look like an alien planet. During the night shoot at Leeds Castle, Hayes' then 14 year old son helped out by navigating the little rowboat that K9 ends up in at the very end of the serial.
For City of Death, Hayes travelled to Paris. In this story, he made a "Hitchcock" style cameo appearance as the shifty-looking passenger wearing a cloth cap and carrying a metal case seen exiting the train at the Metro station Boissère after the Doctor and Romana — as well as dubbing one of the lines where a gendarme tells the Fourth Doctor that the Mona Lisa has been stolen.
Footnotes
edit
External links
edit