Michael Wisher
47,372
articles in progress
Talk

0
Uncredited people need proof.
You must properly source their involvement in the DWU. Otherwise, the claim — or whole page — must be deleted. Remove this message only when proof has been given.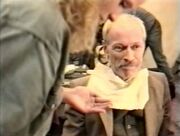 Michael Wisher (19 May 1935-21 July 1995) appeared in many Doctor Who stories, and originated the character of Davros, the creator of the Daleks.
During the 1970s, he played Dalek voices both on Doctor Who and on an episode of Blue Peter and Thirty Years in the TARDIS.
In episode six of Frontier in Space, when the Third Doctor uses a stolen hypnosound to appear as a Dalek to an Ogron guard, Wisher provided the illusion's commands.
Through archive material, he contributed to the Davros Connections and Genesis of a Classic documentaries.
Filmography
Edit
Doctor Who Edit
Related video spin-offs
Edit
Wartime as John Benton's father
Summoned by Shadows as the Controller; related production not set in Doctor Who universe
The Airzone Solution as Richard Allenby; not set in the Doctor Who Universe
Myth Runner as the Boss; Doctor Who parody not actually set in the Whoniverse. He also appears in interview footage as himself
External links
Edit