Ad blocker interference detected!
Wikia is a free-to-use site that makes money from advertising. We have a modified experience for viewers using ad blockers

Wikia is not accessible if you've made further modifications. Remove the custom ad blocker rule(s) and the page will load as expected.
Scrub away the lists, ladies.
This article contains far too many bulleted lists. These sections should be converted into normal prose.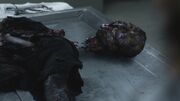 "Miracle Day" was the name originally given to 19/20 March 2011, when every human on Earth simply stopped dying. The name, however, still stuck when the phenomenon lasted for months more. It was caused when the Three Families fed the immortal Jack Harkness' blood into the Blessing, which in turn relayed the template to everyone on the planet in seconds.
Without any immediately obvious cause, awareness of the event took time to develop. One of the earliest survivals was Oswald Danes, a convicted prisoner in the United States about to be executed; although his lethal injection was carried out flawlessly on 19 March, the only effect was intense but temporary pain from the drugs. As hours passed, doctors around the planet began to realise that deaths of patients under their care (such as Rex Matheson, who was impaled by a metal pole) had abruptly dropped to zero. Age, disease, trauma, and all other normally fatal conditions continued to hurt and debilitate their victims, but without killing them. The level of damage to the body did not matter. Extreme examples include an attempted suicide bomber whose entire body was almost totally burned and pulverised but retained some degree of consciousness even after his head was detached from the rest of his body (TV: The New World) and a CIA agent whose neck was broken, yet she managed to stand and stumble away, her head facing backward (TV: Rendition). News media and the general public also began to realise the change. Eventually, the name of the event emerged on the back of the word "miracle," which began to trend across social networking sites.
The only thing that seemed to permanently kill humans was complete incineration; so long as the bodies remained intact to a certain degree, consciousness and life was still possible to a point, but otherwise human beings would continue to exist despite the impossibility of death or recovery. Even detached body parts would still be animated. (TV: The New World) However it was later discovered that jumping off a tall enough building caused people to be forever unconscious, yet not dead, allowing suicide to exist to a certain degree. (TV: The Middle Men) Also, under Angelo Colasanto's bed was a null point to the miracle, where mortality was possible again, and death existed in that one place. A null field generator could exclude a person from the effects of the miracle. (TV: End of the Road)
Unlike the rest of humanity, Jack Harkness, previously an immortal, became vulnerable to injury and death and also began ageing at a normal rate. (TV: The New World)
Cancer cells, which are normally immortal, also became mortal, effectively curing cancer. (TV: End of the Road, Web of Lies)
Eventually it was revealed that The Three Families fed Captain Jack Harkness's immortal blood into a mysterious tunnel called the Blessing that controlled Earth's morphic field. This caused it to change the morphic field so that everyone became immortal. The Families had the plan to take over the immortal world using their connections once everything stabilized. Miracle Day finally ended when Jack Harkness and Rex Matheson fed Jack's now mortal blood into the Blessing, causing the Miracle to reverse itself with Jack regaining his immortality and everyone else regaining their mortality (Apart from Rex Matheson, who replaced most of his blood with some of Jack Harkness'). As the Miracle ended, everyone who was supposed to die woke up for a moment, before finally passing away. (TV: The Blood Line)
Jack Harkness later learned that the Three Families were actually being controlled by the Committee, a group of aliens from the planet Erebus. (AUDIO: Forgotten Lives)
Without death, the human population began to swell rapidly, increasing pressure on resources and on the species itself. The lack of deaths from any disease and the need to keep treating the sick with new medicines was expected to give viruses and bacteria the chance to evolve into unstoppable "superbugs." It was estimated that within four months, Miracle Day would cause a complete environmental and social collapse. (TV: The New World, Rendition) Beyond medical effects, individuals and societies started to react to Miracle Day in myriad ways:
Notable survivals
Edit
These are notable cases of people surviving due to Miracle Day along with the condition that would have caused their death:
Exceptions
Edit
Jack Harkness, formerly immortal, was apparently rendered mortal and vulnerable by the Miracle. He nearly died when he was poisoned (TV: Rendition) and shot (TV: End of the Road) but survived when his immortality was reinstated.
Angelo Colasanto died of old age when his oxygen mask was removed, as his bed was over a device generating a null field that negated the Miracle. (TV: End of the Road)
Only humanity was affected by the Miracle, with no other lifeforms on Earth becoming immortal. Had insects been affected, they would have overrun the world within forty-eight hours. (TV: The New World)