Thirty Years in the TARDIS
Talk

1
41,782
articles in progress

Thirty Years in the TARDIS was a television documentary which aired in 1993 as part of the thirtieth anniversary celebration of Doctor Who. Originally intended to be much longer, the broadcast version was noticeably truncated due to time restrictions.
When an extended cut version was released on BBC Video in 1994, it was retitled More than Thirty Years in the TARDIS and restored many interviews that had to be cut for the BBC broadcast.
The documentary featured appearances by the surviving Doctor actors, including Jon Pertwee, and numerous companions. Nicholas Courtney hosted the documentary, partially in character as the Brigadier. The documentary also included a section on the 1960s Peter Cushing films.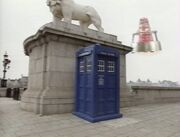 Towards the end several notable scenes occur:
A demonstration of how modern-day (for 1993) special effects could be applied to Doctor Who as the camera follows a boy into the TARDIS from outside, with the effects seamlessly moving from location to studio interior. Carole Ann Ford, possibly in character as an adult Susan Foreman, awaits him inside. Such a scene does not take place in Doctor Who proper until the 2012 Christmas special The Snowmen.
The same boy takes part in a rather sinister, cliffhanger-like sequence in which Elisabeth Sladen appears to be taken over by an alien influence. This is followed by Courtney being driven away in a limousine — driven by an Auton.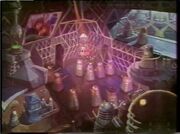 Following the closing credits of the VHS release, BBC controller Alan Yentob is captured on video being evasive when asked by an interviewer about rumours of a new Doctor Who production being imminent. This is followed by a multi-layered vision sequence featuring multiple Daleks achieved through real Daleks, models and animated images. Such a high concentration of Daleks appearing on screen would not be achieved until many years later in such stories as The Parting of the Ways and Asylum of the Daleks.
Partial list of interviews
Edit
DVD Release
Edit
The special was released in a DVD box set, The Legacy, alongside Shada, on 7 January 2013.
Footnotes
Edit