Mother Russia was a 2007 audio-play from Big Finish Productions. It was the first Companion Chronicle to feature the talents of Peter Purves and to use the character of Dodo Chaplet. However, it was not Steven Taylor's debut in the range, since he had earlier appeared in the very first Companion Chronicle, Frostfire, read by Maureen O'Brien.
It depicts an incident which happened to the First Doctor, Steven and Dodo during the Napoleonic Wars in Russia.
Publisher's summary
Edit
It's 1812 and the Doctor, Steven and Dodo get ready to spend their winter in a Russian village. The French are on their way, but that's not the only invasion the travellers will have to deal with.
Part one
Edit
to be added
Part two
Edit
to be added
References
Edit
to be added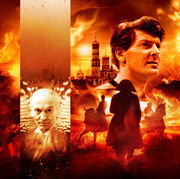 Continuity
Edit
External links
Edit
Ad blocker interference detected!
Wikia is a free-to-use site that makes money from advertising. We have a modified experience for viewers using ad blockers

Wikia is not accessible if you've made further modifications. Remove the custom ad blocker rule(s) and the page will load as expected.