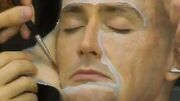 Neill Gorton is Chief Executive and founder of Millennium FX, who provide the special make-up and prosthetic effects for the new Doctor Who series and for the spinoffs The Sarah Jane Adventures and Torchwood.
Bibliography
Edit
He has written about his work for the series in the following issues of the magazine "Sci-Fi & Fantasy Modeller":
Volume 2:

"Age of Steel" describes the creation of the 2006 Cybermen.
Volume 4:

"The Replica Quandary!" decribes the creation of Cyberman replicas for the collectors' market.
"Torchwood - the Making of the Weevils"
Volume 6:

"Creating the Empress of Racnoss"
Volume 7:

"Creating Season Three Creatures - Part One"
Volume 8:

"Creating Season Three Creatures - Part Two"
Volume 12:

"Creating Season Four Creatures"
"Torchwood's Series Two Creatures"
External links
Edit
Ad blocker interference detected!
Wikia is a free-to-use site that makes money from advertising. We have a modified experience for viewers using ad blockers

Wikia is not accessible if you've made further modifications. Remove the custom ad blocker rule(s) and the page will load as expected.