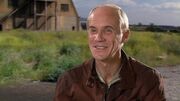 Nick Gillard was stunt arranger for the Doctor Who television story Silver Nemesis (with Paul Heasman). He was also the stunt double for Turlough in Mawdryn Undead. (DWM 234)
He is most famous for having invented the style of lightsaber duelling seen in the Star Wars prequel trilogy.
External links
Edit
Ad blocker interference detected!
Wikia is a free-to-use site that makes money from advertising. We have a modified experience for viewers using ad blockers

Wikia is not accessible if you've made further modifications. Remove the custom ad blocker rule(s) and the page will load as expected.