Ad blocker interference detected!
Wikia is a free-to-use site that makes money from advertising. We have a modified experience for viewers using ad blockers

Wikia is not accessible if you've made further modifications. Remove the custom ad blocker rule(s) and the page will load as expected.


Night's Black Agents
was a
Companion Chronicle
starring
Frazer Hines
. He played an apparently older version of
Jamie McCrimmon
who had been reunited with the
Sixth Doctor
long after he had his memories of his travels with the
Second Doctor
wiped by the
Time Lords
in the television story
The War Games
.
Publisher's summary
Edit
Jamie McCrimmon and his new friend the Sixth Doctor are lost on the moors of Scotland, where the legendary Kelpie roams...
They are offered shelter by the Reverend Merodach, the minister of the parish of Lammermoor, and are welcomed to his castle. But strange forces are at work within its walls, and Merodach is not what he appears.
Can the Doctor and Jamie prevent their powerful enemy from taking the TARDIS for himself?
to be added
References
Edit
Story notes
Edit
This is the first Companion Chronicle to feature the Sixth Doctor.
This audio drama was recorded on 26 October 2009.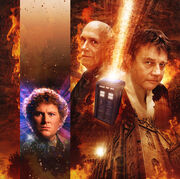 Continuity
Edit
External links
Edit