Opera glasses
were a unique kind of
glasses
similar to binoculars, used to view an
opera
from theatre seats which were far away from the stage.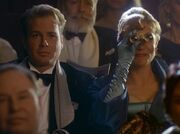 Grace Holloway used a pair of opera glasses during a performance on the night of December 30, 1999, until she was called to perform surgery at Walker General Hospital. (TV: Doctor Who)
The Ninth Doctor had acquired a set of opera lens. He used them as a magnification device to survey a bombing site near Limehouse Green where a Chula ambulance had crashed. (TV: The Empty Child)
Ad blocker interference detected!
Wikia is a free-to-use site that makes money from advertising. We have a modified experience for viewers using ad blockers

Wikia is not accessible if you've made further modifications. Remove the custom ad blocker rule(s) and the page will load as expected.