The Oxford Union Society was an organisation to which the Doctor belonged. Albion Strakk once forced the Seventh Doctor to produce identification, and his membership card to the Oxford Union Society was amongst several other cards. (PROSE: The Dimension Riders)
Behind the scenes
Edit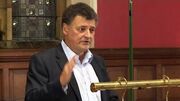 The Oxford Union Society is a debating society, centred around Oxford University. Steven Moffat gave a took at Oxford Union in December 2016, where he spoke about being rubbish, television writing in general, the Daleks, the BBC and, of course, Doctor Who. During this talk, Moffat revealed the story behind his inspiration for the Weeping Angels, indeed the mystery of their conception.
Some others who've publicly spoken at the Oxford Union Society include Derek Jacobi, Stephen Fry and Warwick Davis.
Ad blocker interference detected!
Wikia is a free-to-use site that makes money from advertising. We have a modified experience for viewers using ad blockers

Wikia is not accessible if you've made further modifications. Remove the custom ad blocker rule(s) and the page will load as expected.