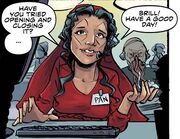 Panoptia was a member of the Sibylline Sisterhood, but eventually left, eventually working for the Psychic Paper Inc in its claims department. She sat next to First Technician, and was fairly fond of him, although he secretly despised her. On one occasion, she took a call from a Mentor who complained. The call angered her, and she passed it on to First Technician, who solved the issue by connecting him to the chief engineer. (COMIC: Psychic Paper Inc Claims Department)
Ad blocker interference detected!
Wikia is a free-to-use site that makes money from advertising. We have a modified experience for viewers using ad blockers

Wikia is not accessible if you've made further modifications. Remove the custom ad blocker rule(s) and the page will load as expected.