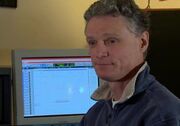 Paul Jefferies was the credited sound effects editor on the BBC Wales version Doctor Who for nearly every episode from Rose to The Witch's Familiar. He has had a particularly long working relationship with dubbing mixer, Tim Ricketts, with whom he has won five Welsh BAFTAs since 1994. Their work on Midnight earned them not only a Welsh BAFTA, but a prestigious Royal Television Society Award. He has also worked with Ricketts on Toby Whithouse's Being Human.
Jefferies also served as dubbing editor for the interactive video game Attack of the Graske)
He was a documentary subject on Doctor Who Confidential in the episodes that accompanied Father's Day, Midnight, and The Hungry Earth.
Sound effects editor
Edit
Effects editor
Edit
Dubbing editor
Edit
External links
Edit
Ad blocker interference detected!
Wikia is a free-to-use site that makes money from advertising. We have a modified experience for viewers using ad blockers

Wikia is not accessible if you've made further modifications. Remove the custom ad blocker rule(s) and the page will load as expected.