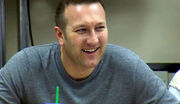 Phil Collinson was the main producer of Doctor Who from Rose to Journey's End, save for a handful of episodes produced by Susie Liggat. He had come to Doctor Who immediately from the BBC Scotland paranormal drama Sea of Souls. He was responsible for bringing several other crew members with him to Doctor Who. Towards the end of his run on Doctor Who, he was occasionally credited as executive producer, typically on those episodes produced by Liggat. He was also "series producer", effectively an executive producer, of the initial run of The Sarah Jane Adventures.
In 2008 he left BBC Wales to become Head of Drama at BBC Manchester, but then swiftly moved on to helm Coronation Street.
External links
Edit
Ad blocker interference detected!
Wikia is a free-to-use site that makes money from advertising. We have a modified experience for viewers using ad blockers

Wikia is not accessible if you've made further modifications. Remove the custom ad blocker rule(s) and the page will load as expected.