Phil Ford was a writer for The Sarah Jane Adventures, Torchwood and Doctor Who. He held the distinction of being the only writer besides Russell T Davies to have written for all three programmes. He took over the position of head writer for The Sarah Jane Adventures beginning with series 2. Ford also served as a script consultant for Sarah Jane's Alien Files, and was the main writer of The Adventure Games. Another notable game he wrote was The Doctor and the Dalek.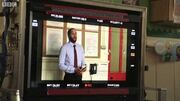 In 2012, he won the Writer's Guild of Great Britain's Best Children's TV Script Award for The Curse of Clyde Langer.[1]
Television
Edit
Doctor Who Edit
Torchwood Edit
The Sarah Jane Adventures Edit
Footnotes
Edit
External links
Edit
Ad blocker interference detected!
Wikia is a free-to-use site that makes money from advertising. We have a modified experience for viewers using ad blockers

Wikia is not accessible if you've made further modifications. Remove the custom ad blocker rule(s) and the page will load as expected.