A photograph was an image recorded by a camera, or the act of recording the image in a technique called photography.
A policeman tried to stop Jamie McCrimmon, Zoe Heriot and Isobel Watkins from going into the sewers to photograph the Cybermen. (TV: The Invasion)
Byulnians were drew power from attention and memories. Because of this, laws were put in place on Byulna that prohibited the use of photographs and anything else capable of recording past moments. (AUDIO: 1963: Fanfare for the Common Men)
On 23rd century Deimos, holograms were recorded on cameras in a similar way to photographs. (AUDIO: Deimos)
The website whoisdoctorwho.co.uk had a photograph of the Ninth Doctor and asked to contact Clive if anyone had seen him. (TV: Rose)
Minnie Hooper took the opportunity to squeeze the Tenth Doctor's bottom as he had a photograph taken with the Silver Cloak group. (TV: The End of Time)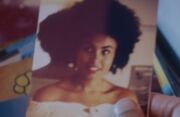 In Christmas 2017, the Twelfth Doctor discovered Bill Potts had no pictures of her mother. Then, he went back in time and took many photographs of her. When Bill arrived in her flat, her foster mother told her she had found a box full of pictures of Bill's mum. Bill went to her bedroom, and cried while looking at the pictures. (TV: The Pilot)
When Bill moved to 11 Cardinal Road, she took at least one picture of her mother with her, and hung it on the wall of her new bedroom. (TV: Knock Knock)
Ad blocker interference detected!
Wikia is a free-to-use site that makes money from advertising. We have a modified experience for viewers using ad blockers

Wikia is not accessible if you've made further modifications. Remove the custom ad blocker rule(s) and the page will load as expected.