Ad blocker interference detected!
Wikia is a free-to-use site that makes money from advertising. We have a modified experience for viewers using ad blockers

Wikia is not accessible if you've made further modifications. Remove the custom ad blocker rule(s) and the page will load as expected.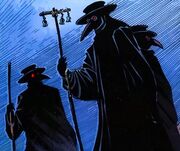 Plague doctors were physicians who specialised in the treatment of bubonic plague. They could be recognised by their heavy outfits and beak-like masks.
The Macro-viruses disguised themselves as plague doctors so they could reproduce. (COMIC: Black Death White Life)
In the early 20th century, Torchwood Three encountered plague doctors. (PROSE: Risk Assessment)