Police box
Talk

2
32,701
articles in progress
A police box — or police public call box — was a telephone kiosk that could be used by the police to call into a station (TV: Logopolis) or by members of the public wishing to get help from the police. (TV: "Bell of Doom")
Unlike telephone booths, a police box phone was on the outside of the structure, in a little compartment that had an exterior, instructional label. (TV: The Empty Child) According to Tegan Jovanka, who once read aloud the instructions on a police box in the Borough of Barnet, the instructions were:
Police Telephone
Free for Use of Public
Advice and Assistance Obtainable Immediately
Officers and Cars Respond to Urgent Calls
Function and physical characterisics
Edit
Police boxes were about the size of a large cupboard, and could provide shelter to those police officers who had the key. Inside were kept a writing desk and stool, as well as materials relevant to the conduct of police business — such as clipboards, writing utensils and forms.
As the Ninth Doctor once pointed out, there was enough space in a typical police box to temporarily house a prisoner. He indicated that a typical usage was for a policeman to pop an arrested individual into the police box and lock the doors until transport to a station could be arranged. (TV: Boom Town)
Incidents and appearances
Edit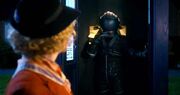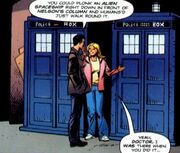 Behind the scenes
Edit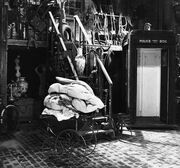 The British Broadcasting Corporation holds a trademark to the British design of the police box as used on Doctor Who.
Although the TARDIS is depicted and referred to as resembling a wooden box on a number of occasions in the series, the historical police box was usually made of concrete by the 1960s. Earlier models were indeed made of wood.
The production team planned to feature the Barnet By-Pass box in the series in Logopolis, only to discover that it had been vandalised shortly before the filming dates. The series' spare police box prop was pressed into service to stand in for the actual box.
External links
Edit