Due to limitations of Wikia software, the proper name of this topic,
Project: Lazarus
, cannot be represented in the page title. See
here
for more details. Editors wishing to link to the article using the proper spelling can type
[[Project Lazarus (audio story)|Project: Lazarus]]
.
Project: Lazarus was the forty-fifth monthly Doctor Who audio story produced by Big Finish Productions. It was the second in a loose arc of three audio stories that featured the Forge; the first was AUDIO: Project: Twilight and the third Project: Destiny. This is also one of only eight audio stories in which Colin Baker and Sylvester McCoy appear together.
Publisher's summary
Edit
"I'll survive, Doctor. I always do."
Unfinished business.
A frightened girl is stalked in a land of eternal night.
A hunter longs for recognition and power.
A traveller in time returns to correct the mistakes of the past and faces a danger that could rob him of his future. Unless his future intervenes.
And in the shadows stands Nimrod. Waiting...
Welcome to the Forge.
Part One: The Sixth Doctor, having found a cure to the virus that Cassandra Schofield contracted, returns with Evelyn Smythe to offer her her freedom.
Part Three: The Seventh Doctor returns to the Forge, only to find the Sixth Doctor helping Nimrod.
References
Edit
The TARDIS
Edit
Evelyn remarks that the TARDIS kitchen seems to restock itself each morning. She is unsure whether this is the Doctor's or the TARDIS' doing.
Every TARDIS has the ability to hunt down vampires, although the Sixth Doctor had to repair the system, which had broken down due to lack of use.
Nimrod attempts to induce a regeneration in the Sixth Doctor.
A regeneration can be triggered by the trauma of losing a limb, which helps the Seventh Doctor deduce the true nature of the Sixth.
The Doctor
Edit
Gallifreyan culture
Edit
Individuals
Edit
The Doctor later meets Cassie's son, Thomas Hector Schofield, though this has already happened for the Seventh Doctor.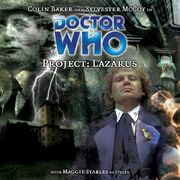 This was the first Big Finish product to offer multiple covers. Buyers were offered a choice between one featuring Colin Baker prominently, with Sylvester McCoy incorporated in an incorporeal manner, or one featuring Sylvester McCoy prominently, with Colin Baker incorporated in an incorporeal manner.
The Seventh Doctor considers going back home to Gallifrey after the events of this adventure, potentially linking it to the events of the TV movie, as when he does return to Gallifrey on his own, it is to collect the remains of the Master.
Continuity
Edit
External links
Edit
Big Finish monthly releases
All stories in the main monthly range are included in this navigation box including the "subscriber exclusive" stories which are part of Big Finish Productions' subscription service for this range. All other stories are represented in other navigation boxes.