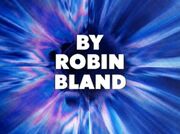 A pseudonym is a false name under which a writer publishes his or her work. Few Doctor Who writers have regularly written under an assumed name, usually under very specific circumstances; most often, writers have used a pseudonym when they wrote a story but weren't legally entitled to receive credit for it. On other occasions, a pseudonym was used as a way to share credit amongst several writers or to express dissatisfaction in the way their story had been handled by the producers or publishers.
Television
Edit
Television
Edit
Ad blocker interference detected!
Wikia is a free-to-use site that makes money from advertising. We have a modified experience for viewers using ad blockers

Wikia is not accessible if you've made further modifications. Remove the custom ad blocker rule(s) and the page will load as expected.