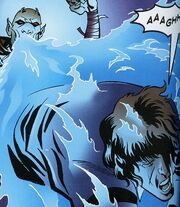 A psychic conduit was a form of mind probe that allowed the user to see the thoughts of another. Spring-heeled Jack used a psychic conduit on the Eighth Doctor. In his mind he saw Gallifrey, the TARDIS and Susan.
The Doctor turned the conduit around and saw inside his attacker's mind. He had visions of Jack's world ablaze. Penny Chapman separated the two when she attacked Jack with a gun. (COMIC: The Curious Tale of Spring-Heeled Jack)
Ad blocker interference detected!
Wikia is a free-to-use site that makes money from advertising. We have a modified experience for viewers using ad blockers

Wikia is not accessible if you've made further modifications. Remove the custom ad blocker rule(s) and the page will load as expected.