Real Time (audio story)
46,903
articles in progress
Talk

0

Real Time was Big Finish Productions' audio release of the Real Time webcast that they co-produced with BBCi. This audio version of the webcast included extra scenes that were not included in the original webcast of the story. The final conclusions to this story and the consequences for Evelyn Smythe — namely her becoming the Cyberleader — were originally planned to be resolved in a sequel story. This story was never produced, and due to the actress's death, the continuity issues may never be resolved.
Publisher's summary
Edit
The Doctor is sent to Planet Chronos to find and bring back several survey mission teams that have vanished into thin air. Accompanied by his mature and loyal companion Dr Evelyn Smythe and a third survey crew, the team are close to solving the mystery, when a member of their gang mysteriously disappears. The Doctor realises that these disappearances are far more serious than they thought. The Cybermen couldn't possibly be behind these strange goings on... could they?
to be added
References
Edit
Cybermen
Edit
Goddard gives Evelyn a quick history of the Cybermen, mentioning their origins on Mondas, colonising, Mondas's destruction and the Orion Wars.
Theories and concepts
Edit
Central to this story is a temporal paradox of Goddard's making. It is also one which is obviously resolved as Evelyn ends her travels with the Doctor on the planet Világ.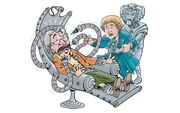 The CD includes interviews and various behind the scenes audio clips from the making of Real Time.
This audio drama was recorded on 19 March 2002 at The Moat Studios.
Continuity
Edit
See also
Edit
External links
Edit