Real Time (webcast)
Talk

0
37,306
articles in progress
Real Time was a six-episode webcast animated adventure featuring the Sixth Doctor. It was available via the BBCI website in 2002. Real Time was one of a few animated webcasts produced featuring various incarnations of the Doctor in the years prior to the revival of the series.
This serial is notable for including the character Evelyn Smythe, marking the first time a character created for the Big Finish Productions audio dramas had appeared in a BBC-sponsored production.
Synopsis
Edit
to be added
to be added
Cast & Characters
Edit
References
Edit
to be added
Story notes
Edit
This story featured the debut of the blue version of the Sixth Doctor's outfit. Multiple reasons were given for this; Colin Baker not having been fond of the original version and the blue suit being more suited to the evolved version of the character. The main reason, though, was technical simplicity; the original version of the costume would have been too complex to portray in this webcast's illustrations of limited detail.[1] The blue suit has since been adopted into the Sixth Doctor's continuity in his Big Finish audio timeline. A blue-suited version of the Doctor from this webcast was released as a Character Options action figure.
Episodes 4 through 6 had warnings that "this week's episode contains scenes that may not be suitable for younger children".
Yee Jee Tso played Chang Lee in the 1996 Doctor Who TV movie.
Each episode was released at noon on a Friday.[2]
Due to technical changes behind the scenes of the BBC website, the Realmedia video streams which made up the webcast stopped working. The BBC acknowledged the error in a FAQ on the Doctor Who website during Series 4, stating they were aware of the error and were working to restore the webcast to functionality in another format "as soon as possible," but no further announcements have been made and the webcast remains inaccessible.[3]
According to the Big Finish website, this story was specifically written to work as either a webcast or audio drama.
Original website release/broadcast
Edit
to be added
Production Errors
Edit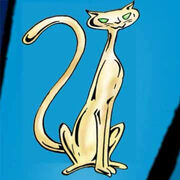 In closeup shots of the Doctor's changing cat brooch, it is obvious that the brooch is a rectangular image superimposed onto the image of the Doctor's lapel, as the background of the cat is a shade of blue slightly different to the lapel.
Continuity
Edit
to be added
CD and Other Releases
Edit
Footnotes
Edit
External links
Edit