Relative Dimensions was the seventh story of the Doctor Who: The Twelfth Doctor comic series published in 2015. It is a holiday special.
When a mysterious Christmas card materialises on the TARDIS console, Clara and the Doctor are pulled into an interdimensional adventure of astoundingly festive proportions! Packed with impossible sights and nigh-insurmountable stakes, this special issue also contains puzzles and games woven into the story!
to be added
Characters
Edit
References
Edit
Although this was the seventh story of the series, due to delays it ended up being published during the run of its preceding story.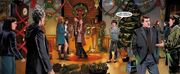 Original print details
Edit
to be added
Continuity
Edit
Ad blocker interference detected!
Wikia is a free-to-use site that makes money from advertising. We have a modified experience for viewers using ad blockers

Wikia is not accessible if you've made further modifications. Remove the custom ad blocker rule(s) and the page will load as expected.